"Avengers: Endgame" New Trailer Released | To the End
While Avengers: Endgame is just over a week away, Marvel Studios has released a brand new trailer for this anticipated film that will be the last in the Infinity Saga, but certainly it makes an impression.
The new trailer begins with a walk down memory lane as Nick Fury narrates. "Heroes… it is an old fashioned notion," says Fury, as footage of Tony Stark's metamorphosis into Iron Man begins. Then we move to Captain America, with snippets from his movies and on to Thor as we see the footage from 2017's Ragnarok.
That segues into footage from Guardians of the Galaxy, Ant-Man, Doctor Strange, Spider-Man: Homecoming, Black Panther, and so more, including Captain Marvel. We also see a bit of footage and the logo for each Marvel Studios film leading all the way up to Infinity War. And then the "in 10 days" marker appears.
That is when footage from Endgame begins. While most of it is footage we have seen in other trailers, there are still a few new bits here. While one involves a new shot of Hawkeye, another shows Tony Stark landing in his Bleeding Edge armor with the repulsor wing things popping out as he lands.
We also get some new glimpses at Thanos' ship emerging from smoke and dust. And we even get to see new footage of Captain Marvel soaring through the skies. You can check out all the new footage in the video above.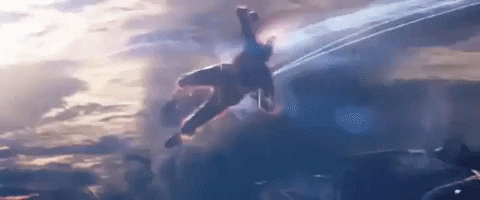 Avengers: Endgame will deal directly with the fallout from Infinity War, showing the remaining heroes in their quest to restore the world to the way it was before Thanos got rid of half the universe in one finger snap. However, the good news is they will have some help with the addition of Captain Marvel, but that might not even be enough to beat the Mad Titan and restore the universe, but now fingers crossed they can make it happen.
Here is the official description of Avengers: Endgame.
"After the devastating events of (2018) Avengers: Infinity War, the universe is in ruins due to the efforts of Thanos, the Mad Titan. With the help of remaining allies, the Avengers will assemble once more to undo Thanos' action and restore order to the universe once for all, no matter what consequences may be in store."
Avengers: Endgame officially hits theaters on April 26.
Marvel Studios' The Infinity Saga Trailer Released
Throughout the last decade, Marvel fans have been treated with the cultivation of the most successful superhero movie franchise in history, with over 20 films leading up to the epic events of Avengers: Endgame. Now all of these flicks have fallen under one banner, with Marvel Studios treating each entry as an important installment of The Infinity Saga. The series might have come to a close with Iron Man snapping his fingers, eventually eliminating the threat of Thanos and the Infinity Stones. However, this story will continue to play a major part among fans of the franchise.
With a brand-new box set collecting all 23 movies thus far in the Marvel Cinematic Universe, fans can prepare for the released with the first official trailer for the Infinity Saga. That was a surprise delight for fans who attended San Diego Comic-Con (SDCC), and now it is available for the rest of the viewing public. You can watch the full trailer, in all its glory, above.
Marvel Studios president Kevin Feige has previously been teasing the release of a major Infinity Saga collection for quite some time. And now we are getting our first glimpse of the narrative of the entire shared universe. While fans have been clamoring for something substantial from the major movie franchise, now it is here!
Still, there is no release date for the home video release of the Infinity Saga quite yet. However, Feige has made it clear that it would be worthwhile for many Marvel fans.
"If we do a big, a giant Infinity Saga box set, we might include – I am assuming if you are going to spend the money to buy a box set with everything in it, you are a fan," Feige told Empire Magazine in a Q&A. "And it will take more than a couple of really, really bad scenes to turn you."
There has also been a lot of talk about deleted scenes from Marvel films. And while not all of them have made the light of day, Kevin Feige already gave his statement.
"I like sharing those scenes," he noted of a deleted Endgame sequence that was unveiled recently. "So when we have something like that that we love, and which even was not an easy decision to cut out but the best decision for the movie. It is a great avenue to say, 'We will put it out there.' It is not like nobody will ever see it. There are things that we think no-one should ever see. I think we have just recently been discussing that now we can start to show some of our less proud moments."
Words coming out of SDCC suggested just how epic Marvel Studios' Infinity Saga trailer was. And now that it has made its way out into the world at larger, it is clear that those notices were not hyperbolic. Certainly, it remains to be seen if the next chapter of the MCU will measure up to what has come before, or if the Infinity Saga will end up being looked back on by fans as the peak of the franchise. Either way, millions cannot wait to find out.