"Avengers: Endgame" New Trailer Released | To the End
While Avengers: Endgame is just over a week away, Marvel Studios has released a brand new trailer for this anticipated film that will be the last in the Infinity Saga, but certainly it makes an impression.
The new trailer begins with a walk down memory lane as Nick Fury narrates. "Heroes… it is an old fashioned notion," says Fury, as footage of Tony Stark's metamorphosis into Iron Man begins. Then we move to Captain America, with snippets from his movies and on to Thor as we see the footage from 2017's Ragnarok.
That segues into footage from Guardians of the Galaxy, Ant-Man, Doctor Strange, Spider-Man: Homecoming, Black Panther, and so more, including Captain Marvel. We also see a bit of footage and the logo for each Marvel Studios film leading all the way up to Infinity War. And then the "in 10 days" marker appears.
That is when footage from Endgame begins. While most of it is footage we have seen in other trailers, there are still a few new bits here. While one involves a new shot of Hawkeye, another shows Tony Stark landing in his Bleeding Edge armor with the repulsor wing things popping out as he lands.
We also get some new glimpses at Thanos' ship emerging from smoke and dust. And we even get to see new footage of Captain Marvel soaring through the skies. You can check out all the new footage in the video above.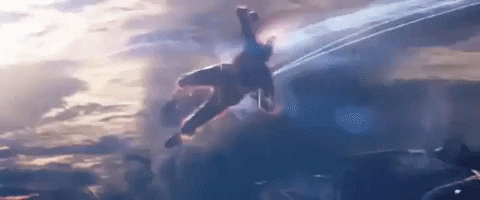 Avengers: Endgame will deal directly with the fallout from Infinity War, showing the remaining heroes in their quest to restore the world to the way it was before Thanos got rid of half the universe in one finger snap. However, the good news is they will have some help with the addition of Captain Marvel, but that might not even be enough to beat the Mad Titan and restore the universe, but now fingers crossed they can make it happen.
Here is the official description of Avengers: Endgame.
"After the devastating events of (2018) Avengers: Infinity War, the universe is in ruins due to the efforts of Thanos, the Mad Titan. With the help of remaining allies, the Avengers will assemble once more to undo Thanos' action and restore order to the universe once for all, no matter what consequences may be in store."
Avengers: Endgame officially hits theaters on April 26.
"Avengers: Endgame:" Why Gamora Returned But Black Widow Did Not
As we saw in Avengers: Endgame, both Gamora (star Zoe Saldana) and Black Widow/Natasha Romanoff (star Scarlett Johansson) died on Vormir to unlock the Soul Stone. However, the Gamora still alive by the close of Endgame is a past version displaced from 2014.
"It is not the Gamora that was killed by the Soul Stone. That's the Gamora from the past," Endgame co-writer Stephen Markus explained to Variety.
"When Gamora went off the cliff, the Gamora from that time period died. But this is the Gamora from prior to that. So she is still alive. And she traveled in the time machine to the present. You know, as you do."
"As you do," co-screenwriter Stephen McFeely quipped.
Meanwhile, the original Gamora, who starred in both Guardians of the Galaxy and the Vol. 2, perished in Infinity War when her adoptive father Thanos (star Josh Brolin) murdered her to win the Soul Stone.
In Avengers: Endgame, Nat prevents her long-term closest friend Clint Barton aka Hawkeye (star Jeremy Renner) from sacrificing himself. And the death of Black Widow gives the Avengers one of the six desperately needed Infinity Stones required to resurrect half of the universe that was vanished five years earlier.
"In our minds, her journeys had come to an end if she could get the Avengers back," McFeely told the New York Times.
"She comes from such an abusive, terrible, and mind-control background. So when she gets to Vormir and has a chance to get the family back, and that is a thing she would trade for. But the toughest thing for us was that we were always worried that people were not going to have time to be sad enough. When the stakes are still out there, and they have not solved the problem. We lost a big character – a female character – but how do we honor it? We have this male lens, and it is a lot of guys being sad that a woman died."
Ultimately, Black Widow is the one who dies so the rest of the Avengers can obtain the Soul Stone, and her death has become a controversial topic about Endgame.
One of the biggest criticisms to follow Black Widow's death was her lack of a funeral. During a Q&A with Endgame co-director Joe Russo posted on Chinese website TencentQQ (translated by Reddit), the lack of this scene was finally addressed. In typical Russo fashion though, he suggested many possible explanations for why it was not in the film.
"Did you forget when the heroes mourning for her after they returned from past? Maybe her funeral happened off screen. Maybe it'll be shown in future installment because there're still tons of stories in MCU that are waiting to be told."
So the lake-set mourning footage was the closest Nat would get to a funeral just before the plot moved on towards its finale, in which the Avengers assemble superheroes from across the universe for one last stand against Thanos, who threatens to burn the Earth to cinders. Iron Man/Tony Stark dies stopping the Mad Titan. And Endgame finished with a funeral for the hero who launched the Marvel Cinematic Universe.
"Tony gets a funeral. Natasha does not," said Markus.
"That is partly because Tony is the massive public figure and she has been a cipher the whole time. It was not necessarily honest to the character to give her a funeral. And the biggest question about it is what Thanos raises there on the dock. 'We have the Infinity Stones. So why don't we just bring her back?'"
"That is the everlasting exchange," said McFeely. "You bring her back, you lose the stone."
As for the screenwriters, retrieving a still-living Black Widow from an earlier timeline "would have been a weirdly selfish decision."
"Like, effectively, we are going to kidnap a version of Black Widow who knows nothing about the current circumstances and bring her to the future just so we can have one. It is not really asking her whether she wants to go."
So the deaths of the Gamora in 2018 and 2023's Black Widow are irreversible, part of an everlasting exchange preventing their resurrection.
We will know where Gamora goes from here as soon as Guardians of the Galaxy franchise arrives. The Guardians Vol. 3 will be written and directed by the return of James Gunn.
Scarlett Johannson will reprise her role in the first Black Widow standalone film, previously reported to be a prequel set back in 2006, a handful of years before Natasha Romanoff joins Earth's mightiest heroes. Directed by Cate Shortland, Black Widow is set to open sometime in 2020.
Avengers: Endgame is now in theaters.